Duchenne Muscular Dystrophy is a relentless, cruel disease.  It is the world's #1 lethal childhood genetic disorder.  The Foundation to Eradicate Duchenne (FED) exists to fund scientific research for treatments for today's generation of boys and young men who suffer from Duchenne.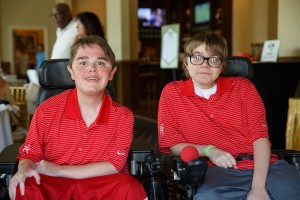 FED is a small group of families with sons who have Duchenne.  We are focused on leveraging the dollars we raise to the most aggressive research that is within reach of our sons.  This is an important distinction from other organizations in the neuromuscular community, with whom we do our best to work cohesively.  We are supporting clinical trials on drugs that have already crossed the threshold from theoretical and speculative.
Founded in 2001, the FED has raised many millions of dollars, and much progress has been made.  Duchenne was once a hopeless disorder that had a predictable trajectory – one that typically took away lives in teenage years or the early twenties. Today, it is difficult to establish an expected life expectancy based on strides that have been made.  But there are desperate needs to push Duchenne-specific therapies out of the scientific pipeline and into the marketplace.  We are, in three words: not there yet.
Amazing progress has been made, but we feel anguish for the dreams that are unfulfilled, for the lives that are cut far too short.  Our sons suffer in silence.
What is Duchenne Muscular Dystrophy?
The words "incurable" and "untreatable" have been closely associated with Duchenne.  It is an X-chromosome disease that afflicts boys, and it will never be eliminated through genetic screening because the dystrophin gene is the largest gene in body – times ten – and thus much more prone to have flaws that are not inherited.
The trajectory of this disorder is insidious.  Duchenne boys typically are not diagnosed until they are four years old or older.  They tend to get better in the so-called "honeymoon" stage, which usually lasts until the early teenage years.  But their muscles are deteriorating and cannot regenerate.  Dystrophin is part of the chemical glue that holds muscle cell walls together, and those walls eventually collapse and are filled with collagen that causes fibrosis.  First the legs give out, slowly, then, the arms and upper body.  The disease moves from skeletal muscle to smooth muscle tissue.  Lungs and hearts deteriorate.  Corticosteroid treatment forestalls the muscle deterioration, but steroids have terrible side effects such as making bones brittle.
You get the picture.  Duchenne Muscular Dystrophy is excruciating, ruthless, sadistic, and painful.  More than anything, it is cruel.
We are Grateful
The opposite of cruelty is compassion.  Many, many friends have demonstrated extraordinary compassion for our sons and this cause over the years.
K. Chesterton wrote that "thanks are the highest form of thought, and that gratitude is happiness doubled by wonder."
On behalf of our sons, we are filled with gratitude for your support of the Foundation to Eradicate Duchenne.
What FED Funds
Though Duchenne is catastrophic, it has a biology that is simple in comparison to other major diseases – readily identifiable flaws on a single gene – the dystrophin gene. The scientific advisor to the FED since its inception is Dr. Eric Hoffman of Children's National Medical Center in Washington, D.C.  When he was only 26 (in 1987), Dr. Hoffman was the first scientist to identify and subsequently clone the dystrophin gene. His work has been at the forefront of international study of Duchenne ever since. His advice and guidance continues to be crucial to the direction of research funding from FED.  Since its inception, FED funding and influence has helped move research forward toward a specific treatment for Duchenne.
For example
We have provided critical support to a therapy called "exon-skipping" that would essentially create a genetic "patch" for flaws in the dystrophin gene.  The result could dramatically slow down the muscle wasting process and essentially turn Duchenne into a milder form of muscular dystrophy.  Front-page headlines in the top newspapers of the world have been written in the last year about the promise of exon-skipping to those with Duchenne.

For example
We provided the earliest support to a drug therapy that would create a new generation of corticosteroids – separating out all of the worst side effects, and amplifying the good effects.  Now in human clinical trials, this drug looks as though it could be a blockbuster that helps treat many disorders beyond muscular dystrophy.

For example
We support robotics/exoskeleton initiatives that will enable young men with Duchenne to compensate for their loss of strength and enjoy more of life's pleasures.  The pace of technological innovation today vastly outstrips the pace of drug development, and we want our sons to benefit from these radical advances in engineering.
We spend the precious dollars raised by our organization with one guiding philosophy: leverage.  We constantly look for a multiplier effect – by partnering with other foundations, academic institutions, and private biotechnology firms.  We do our best to identify opportunities to fund Duchenne projects that can build on governmental and private support.
How you can help
FED holds several fundraising events every year. All proceeds raised through these events, and through generous gifts and grants are designated for the most cutting-edge research in the world to find treatment therapies, and ultimately a cure for Duchenne. Every dollar counts as each goes towards adding new clinical trials and expanding research for new treatments, bringing thousands upon thousands of families closer to hope. Visit our web site www.duchnnemd.org for more information about upcoming events.
Donations by Check
Please make checks payable to:
Foundation to Eradicate Duchenne
P.O. Box 2371
Alexandria, VA 22301
Donations by Credit Card
To make donations by credit card, visit www.duchennemd.org and click "Please Help" for our secure donation form. You can also use your credit card by completing the attached Donor Information form and submit it via fax or mail.
Fax 703-683-4482
Matching Gifts
If your company is a participating matching gift employer, you could double or even triple your gift to FED. All you have to do is check with your Human Resources department and we'll do the rest!
Volunteer or Mailing List
If you are interested in volunteering or being added to our mailing list, simply go to our website, www.duchennemd.org and sign up.
For more information about FED Fundraising contact Michelle Payne at mpayne@duchennemd.org or (703) 683-7500.